In the glamorous world of luxury real estate, where the elite seek abodes that mirror their opulent lifestyles, a coastal gem emerges from the shadows of tranquil Palos Verdes Estates. This breathtaking masterpiece, perched atop the majestic cliffs that guard the Pacific Ocean's embrace, commands a record-breaking asking price of $35 million. We invite you on a tour of this architectural marvel, a true testament to the legendary Olmstead lineage and a triumph of design.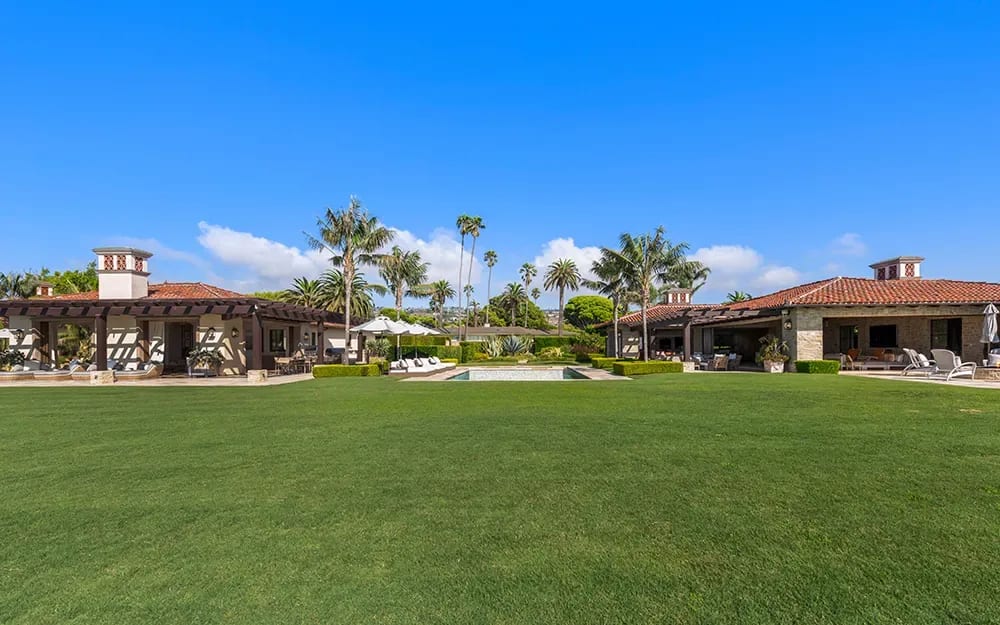 The Olmstead Legacy
Frederick Law Olmstead Jr., a scion of the celebrated Olmstead lineage, followed in his father's groundbreaking footsteps as a conservation-minded landscape designer and urban planner. His vision has left an indelible mark across the globe, but it is in Palos Verdes Estates that we discover one of his most extraordinary creations.
A Coastal Oasis
Nestled on a hilly peninsula, a mere 25 miles from the bustling heart of Los Angeles, Palos Verdes Estates is a realm of affluence, where the median home price soars to an astonishing $2.6 million. This 1.2-acre estate, listed by Britt Austin and Cari Corbalis of Vista Sotheby's International Realty, emerges as the crown jewel of this coastal paradise. With 180-degree ocean and coastline vistas from its towering 250-foot cliffs, it stands as an unrivaled testament to luxury living.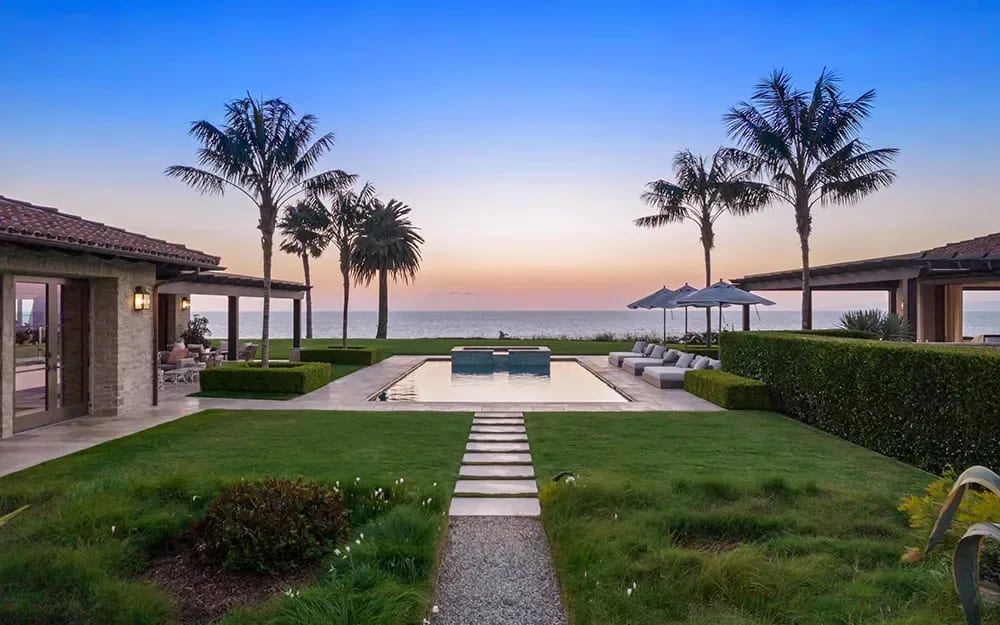 Design in Harmony
Step beyond the estate's security gates and be transported into a world of timeless elegance. Renowned designer Tim Clarke has skillfully crafted a serene and comfortable ambiance, allowing the panoramic views to take center stage. Reclaimed wood-beamed ceilings, French white oak and limestone floors, Roman clay plaster walls, and vintage Italian chandeliers set the stage for an opulent yet relaxed atmosphere. Antique fireplace mantels from France add a touch of history to the decor.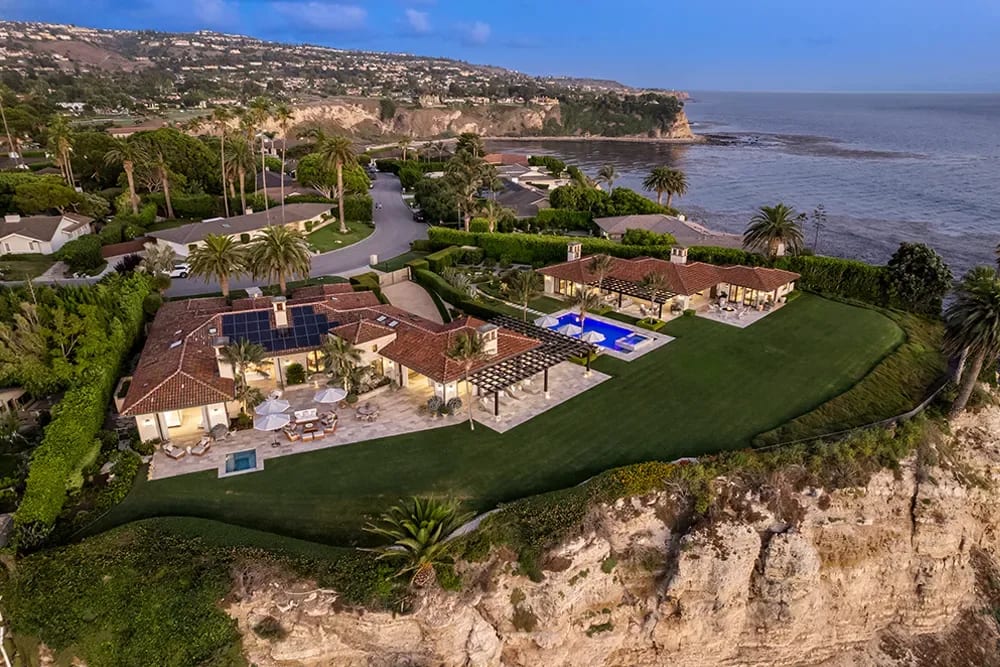 Indoor-Outdoor Symphony
Seamlessly blending indoor and outdoor living, retractable sliding doors grace both the main house and the guesthouse/entertainment pavilion. These architectural marvels erase boundaries, inviting the ocean breeze to caress every corner of the nearly 12,500 square feet of living space.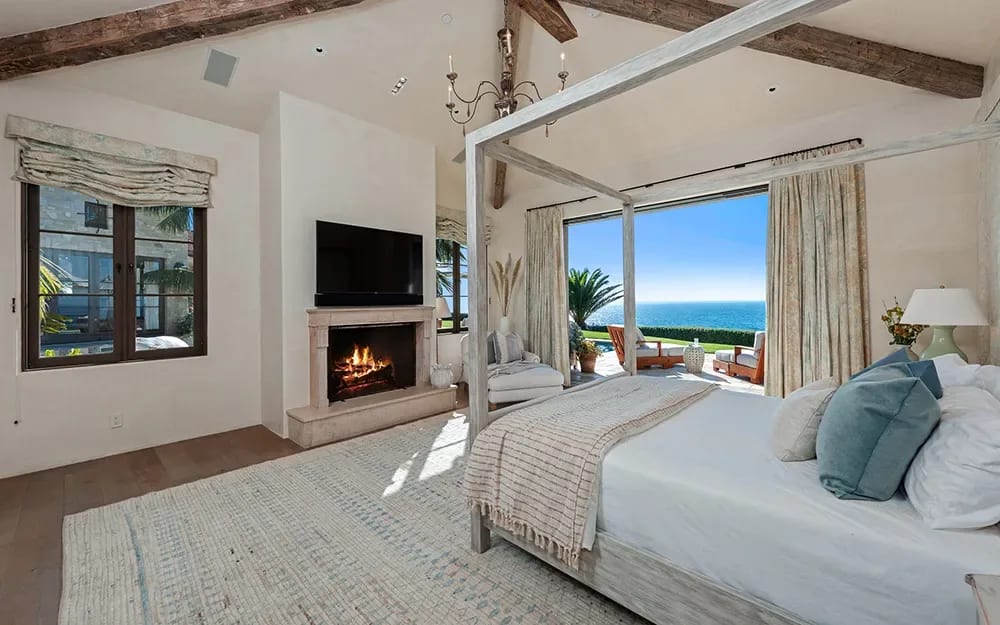 A Culinary Oasis
The heart of the home is the gourmet kitchen, flanked by a window-lined breakfast nook and a family room with retractable glass walls. This trifecta transforms into a breezy loggia when the doors are open, making it the ideal space for both intimate family gatherings and grand soirées.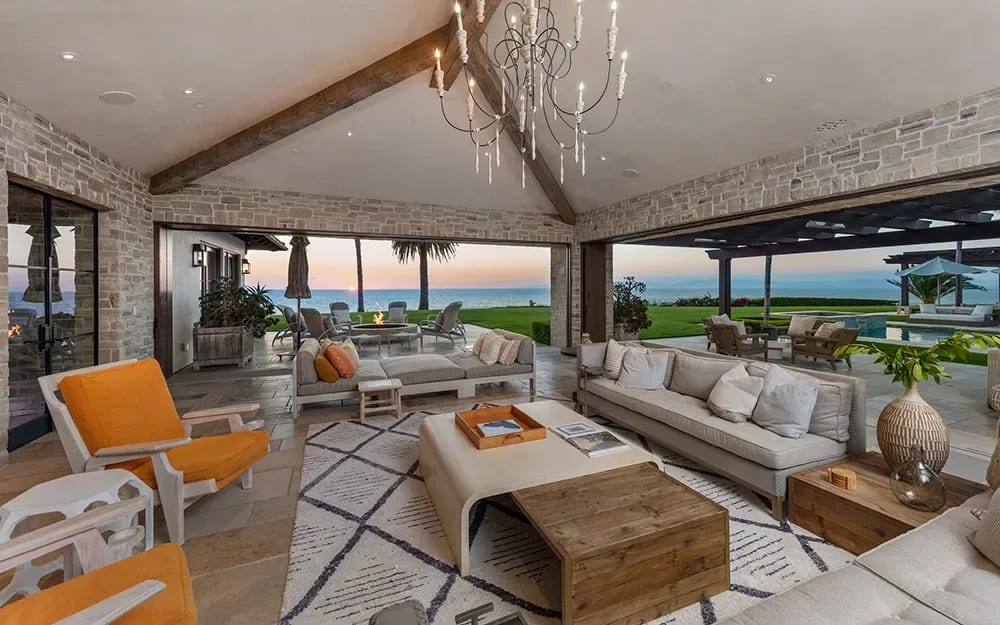 Luxurious Retreats
This coastal haven boasts seven bedrooms, eight bathrooms, and three powder rooms, offering ample space for residents and guests alike. The primary suite, a private ocean-view sanctuary, comes complete with its own spa. The subterranean level houses a game room and a movie theater, as well as garaging for more than half a dozen cars.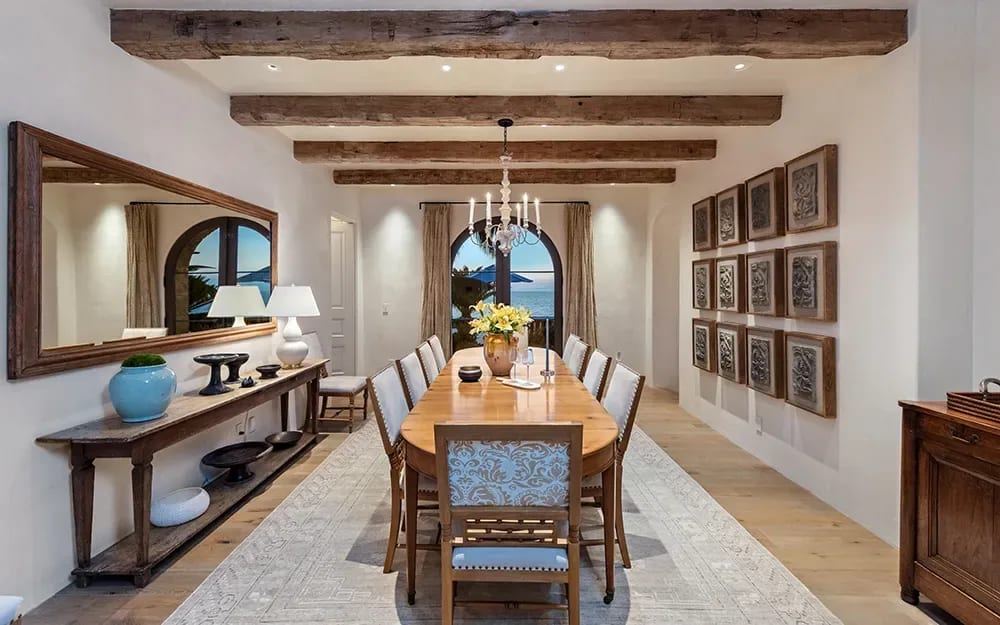 Guesthouse Extravaganza
Adjacent to the swimming pool, the guesthouse/entertainment pavilion mirrors the main house in its materials and craftsmanship. Entire walls of glass effortlessly slide open, revealing a custom indoor Italian grill and two ensuite bedrooms. A fitness room and a wine cellar housing over 1,200 bottles of wine complete this entertainment haven.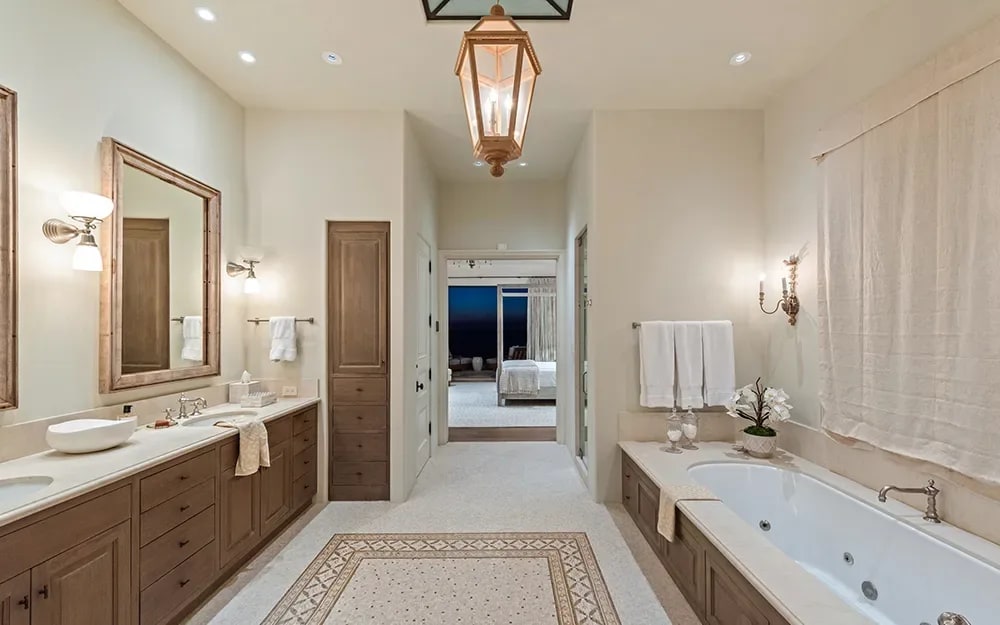 Landscape as Art
The meticulously designed grounds, courtesy of Studio Art Luna, offer limestone terraces, native coastal plantings, herb and vegetable gardens, and lush emerald lawns that cascade toward a flagstone path hugging the cliff's edge. This outdoor oasis is a masterpiece of its own, perfectly complementing the grandeur of the estate.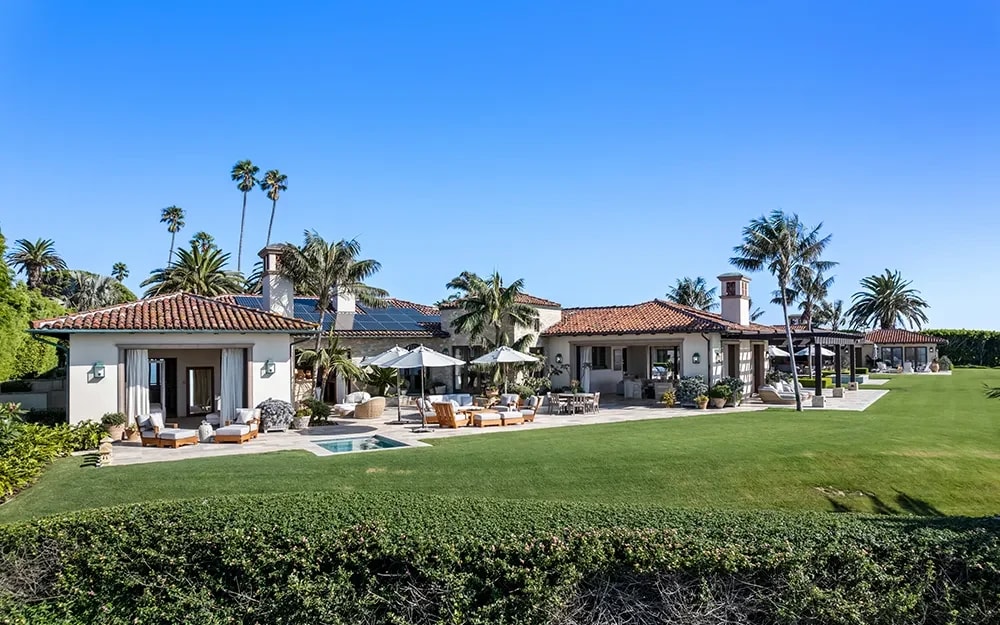 A Luminous Legacy
Tax records reveal that this palatial estate belongs to a trust managed by Timothy Armour, chairman, and CEO of Capital Group. Acquired in two transactions in 2007 and 2011 for a combined $9.4 million, this property now emerges as a shining testament to luxury living.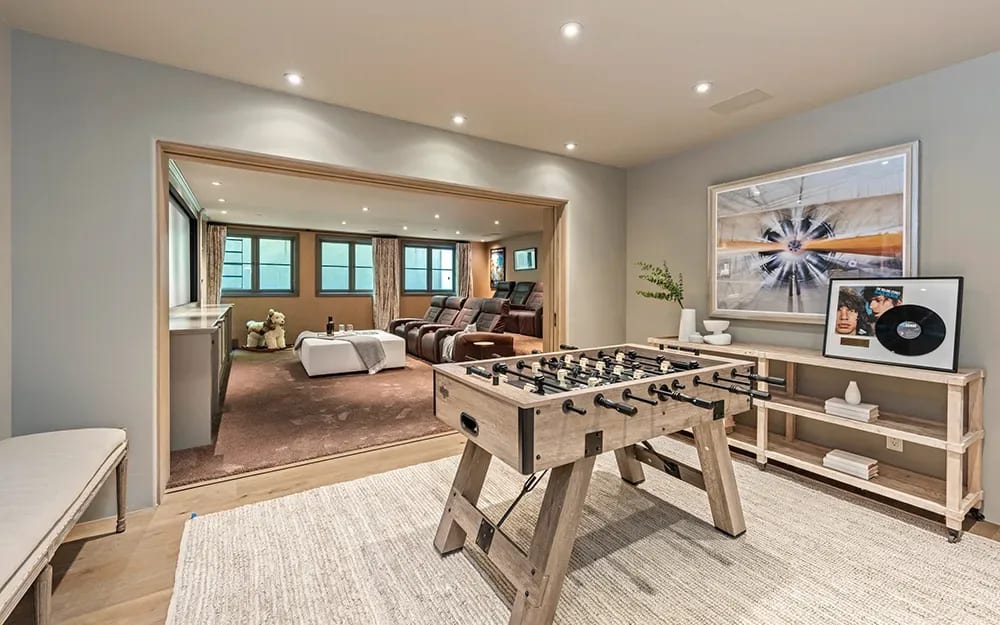 Record-Breaking Aspirations
Should this coastal masterpiece sell anywhere near its audacious asking price, it will shatter records as the highest-priced single-family home ever in this exclusive neighborhood and the entire peninsula. The elite have already staked their claim in this luxurious enclave, with USC's head football coach, Lincoln Riley, acquiring a three-plus-acre property for nearly $17.2 million in the previous year, and a neighboring Rolling Hills estate changing hands for a staggering $20 million in 2018.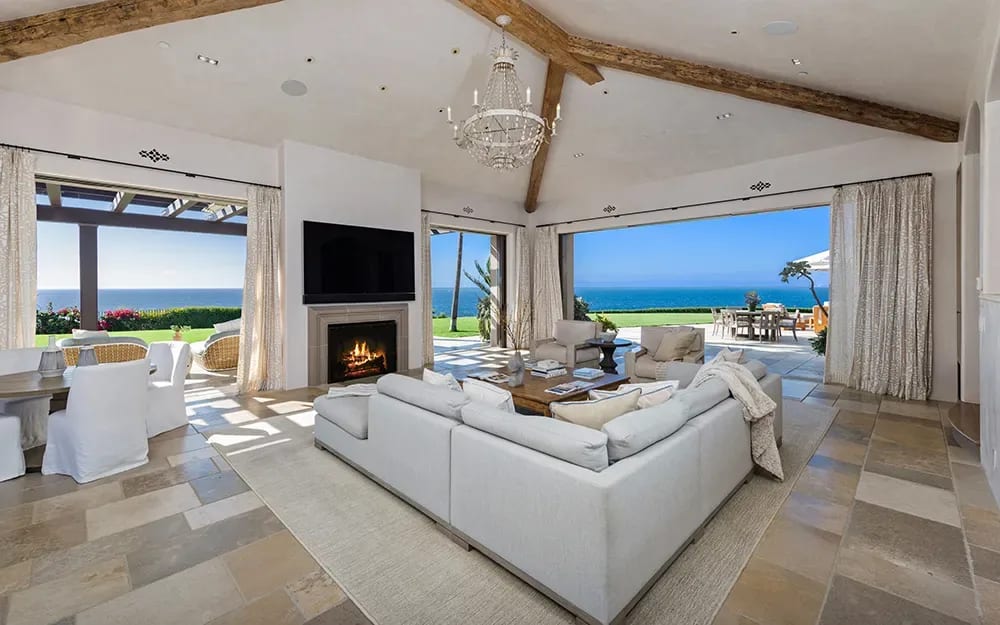 As we stand on the precipice of luxury, gazing out over the endless expanse of the Pacific Ocean, Palos Verdes Estates beckons with an allure that only the most discerning can fathom. This $35 million coastal marvel stands as a testament to design, legacy, and luxury—a place where time stands still, and dreams come to life.